GORDON BEEFERMAN
composer & pianist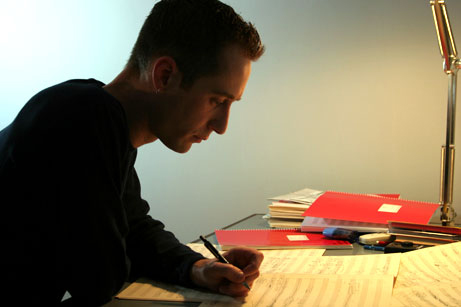 MORBIDITY AND MORTALITY REPORT (2002)
For full orchestra, 10 min. Commissioned by the BMI Foundation/Carlos Surinach Fund for David Alan Miller and the Albany Symphony Orchestra; Premiere: March 14, 2003 at the Troy Savings Bank Hall, Troy, NY, by the Albany Symphony Orchestra, conducted by David Alan Miller. Additional performance by New England Philharmonic, Richard Pittman, conductor, 2004.
Read more about "Morbidity and Mortality Report"
Cutaneous
Kursk
Interlude (Fight Scene)
Grandmother in the Bed
SAN FRANCISCO SONGS (1998-2000)
words by Jane Barnes; for tenor and full orchestra, 25 min. (unperformed)
SYMPHONY #1 (1996-97)
for full orchestra, 25 min. Third movement (La Aurora, 15 min.) premiered by the Civic Orchestra of Chicago, Orchestra Hall, Chicago, conducted by Cliff Colnot, April 11, 1999; additional performance by Young Musicians Foundation Debut Orchestra, Los Angeles, June 1999. First and second movements presented in a public reading by the Minnesota Orchestra, at Orchestra Hall, Minneapolis, conducted by Giancarlo Guerrero, March 2002.