GORDON BEEFERMAN
composer & pianist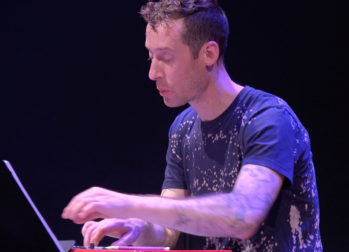 Thursday, Aug 24, 2017, 8-11pm
Queer Trash 7: "It Gets Jizzier…"
Gordon Beeferman (organ) / Chris Cochrane (guitar) / Kevin Shea (drums)
also appearing
Dave Rempis / Jaimie Branch Duo (saxes/trumpet duo)
Kate Mohanty (solo alto sax)
Samantha Riott (spoken word)
1090 Wyckoff Avenue, Ridgewood (Queens), NY
L train to Halsey St. (check www.mta.info)
More info: https://www.facebook.com/events/1728940537400633/

CHRIS COCHRANE is a songwriter and guitarist who has been playing in New York since the 1980s. Chris has  played with Thurston Moore, Zeena Parkins, John Zorn, Marc Ribot, Billy Martin, Eszter Balint, Mike Patton, Henry Kaiser, Andrea Centazzo, Annie Gosfield, Tim Hodgkinson, Miguel Frasconi, Richard Buckner, Davey Williams, Ladonna Smith and Jim Pugliese.  He has composed music for Dennis Cooper, John Jasperse, Neil Greenberg, Nayland Blake, Ishmael Houston-Jones, Jennifer Monson and Circus Amok. He was in the bands No Safety and Curlew, and is currently in Collapsible Shoulder with Brian Chase, Kato Hideki and Kevin Bud Jones and Bee Line with Billy Martin and Kato Hideki. This summer he toured with Marc Ribot's Young Philadelphians, whose band members are Calvin Weston and Jaamaaladeen Tacuma. http://www.thechriscochrane.com/
"The drumming of KEVIN SHEA bears special mention. Few other drummers of his generation are as recognizable and idiosyncratic. His chaotic propulsiveness drives the band and creates the unique swing feel that has become a hallmark of Mostly Other People Do The Killing. Named "Best Drummer in New York" by the Village Voice, Shea regularly tours with the noise-rock-improv duo, Talibam!, and recently released a third album with the band People featuring Mary Halvorson."   —Jazzchill http://www.kevinshea.info/
---
also appearing:
duo B: Lisa Mezzacappa/Jason Levis (San Francisco)
Marco Capelli/Andrea Pennisi "VJ Lapsus" (Italy)
Soup and Sound
www.soupandsound.org
292 Lefferts Ave. Brooklyn, NY (btw Nostrand & Rogers)
Subway: 2 to Sterling St. (check www.mta.info)
$20 suggested donation. Door opens 30 minutes before show.
SOUP while it lasts (no extra charge!). BYOB. Feel free to bring some food or drink to share.
---
Sunday, November 26, 2017, 8:30pm
Chris Cochrane (guitar), Kevin Shea (drums), Gordon Beeferman (organ) with special guest Zeena Parkins (electric harp)
The Stone, NW corner of Avenue C and East 2nd Street, Lower East Side
Subway: F to 2nd Avenue (check www.mta.info)
www.thestonenyc.com
---
Sunday, December 3, 2017
AIDS Quilt Songbook 25th Anniversary Concert
in conjunction with World AIDS Day
co-curated by Gordon Beeferman and Thomas Bagwell
National Sawdust
80 N. 6th Street (@ Wythe Ave), Brooklyn NY
---
Click here for a full archive of past concerts.