GORDON BEEFERMAN
composer & pianist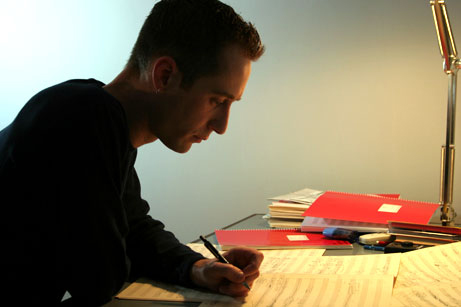 THE ENCHANTED ORGAN: A PORN OPERA
"The Enchanted Organ" is a burlesque opera that celebrates sexuality and satirizes the porn industry, while parodying four hundred years of the operatic tradition. Composer/librettist team Gordon Beeferman and Charlotte Jackson bring wit and polymorphous perversity to this journey through "the Magical Kingdom of Porn," a place where past and present, straight and queer, and dead and living converge. Drawing on influences as diverse as classic 70s porn soundtracks, baroque oratorio, Ancient Greek hymns, and the Nutcracker ballet, this work-in-progress is as close as you'll get (or want to get!) to "aural sex."
Duration: two hours, with one intermission. Instrumentation: alto sax/recorder/bass clarinet, violin, guitar/elec. guitar, bass/electric bass, organ/piano/harpsichord (2 players), drumset
Act I was premiered as a work-in-progress at Dixon Place, June 22-23, 2012, directed by Beth Greenberg.

"An Edifying Masque" from Act Two, performed at Operotica, New York City, January 2015
For more information, including videos and photos of our 2012 preview production of Act One, visit www.enchantedorgan.com.
THE RAT LAND (2003-08)
A chamber opera in four scenes plus a prologue, interlude and epilogue, 2 hours
Libretto by Charlotte Jackson
Instrumentation: flute/picc, Eb/Bb clar, Bass/Contrabass Clar, Alto/Bari Sax; Horn, Trombone; Percussion; Piano; Accordion; Violin, Viola, Cello, Double Bass
Cast: soprano (2), mezzo-soprano, countertenor/alto, tenor (2), baritone, bass-baritone
Stage premiere: The Industry, Los Angeles, 2014-15 season
Premiere of Prologue and Scene 1 on April 1, 2006 at the Improvised and Otherwise Festival in Brooklyn, NY, by Anti-Social Music and soloists. Concert performance of Prologue and Scene 1 by the New York City Opera / VOX 2007 Showcase, May 12, 2007; Scene two premiered at New York City Opera VOX 2009.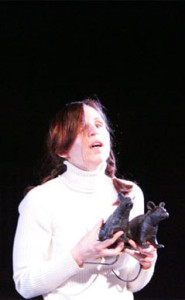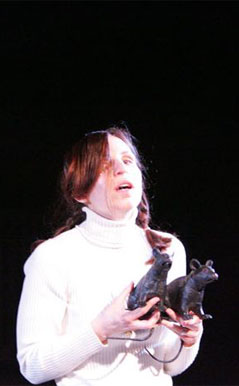 Laurie Rubin as Karen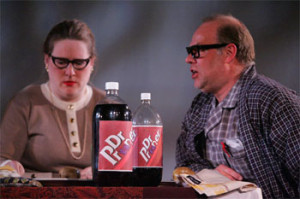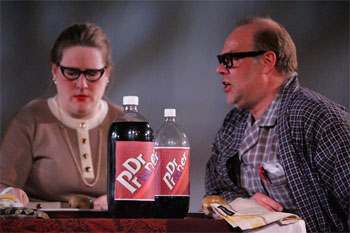 Martha Sullivan as Louise, Michael Douglas Jones as Theodore
THE GREEK GAZE (1998)
"mini-opera" for 3 women, 2 men, electric guitar, electric bass, and drums. Premiered by members of the ensemble "Caterwaul" at the University of Michigan, March 27, 1998; 4 min.