GORDON BEEFERMAN
composer & pianist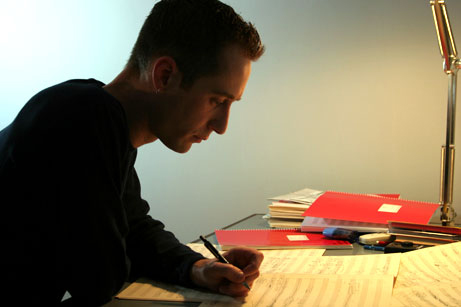 LAST WASH (2010/2014)
fl, ob, b. cl, hn, tp, tbn, 2 perc, piano, vn, va, vc, cb; 5 1/2 min.
Premiere: May 6, 2014, by the Orchestra of the League of Composers at Merkin Hall, NYC
RACKET (2014)
fl, ob, cl, hn, tp, tbn, 2 perc, piano, vn, va, vc, cb; 5 1/2min.
Premiere: May 6, 2014, by the Orchestra of the League of Composers at Merkin Hall, NYC
FOUR PARTS FIVE (2012) 30 min.
Alto sax/bass clarinet/flute, piano/organ, electric guitar, bass, drumset. 30 minutes. Performed by Gordon Beeferman and quintet, February 2013.
QUADRILLE (2012) 9 min.
piano and string quartet, 9 minutes. Performed by the Momenta Quartet with Gordon Beeferman, piano; premiered at Gretna Music, August 2012. Additional performances at New York University, March 2013; and at Roulette, New York City, October 2013.
HABITATS (2011)
flute, viola, trombone, percussion, 25 minutes. Commissioned by the American Music Center Live Music for Dance program for choreographer Anita Cheng. Premiere April 28-May 1, 2011, Abrons Arts Center, New York, by Jen Baker, Stephanie Griffin, Margaret Lancaster, David Shively.
Shorter version for nine instruments (flute, oboe, bassoon, trumpet, horn, percussion, violin, viola, cello, bass). 10 minutes. Premiered by International Contemporary Ensemble, April 2012, at New York University.
RITES OF SUMMER (2007) 25 min.
flute/picc, clarinet, violin, cello, piano, percussion, duration 25 minutes. Commissioned by Eleanor Eisenmenger/20th Century Unlimited. Premiere May 14, 2008 by the California EAR Unit at REDCAT/Disney Hall, Los Angeles.
BRASS QUINTET (2007)
C Tpt., Bb Tpt., Horn, Ten. Trb, Bass Trb., 15 minutes. Commissioned by the American Brass Quintet with funds from the Jerome Foundation. 15 min. Premiere July 23, 2008 at the Aspen Music Festival; additional performance at Juilliard School, November 2008.
PASSAGES (2006)
For recorder quartet,14 minutes. Commissioned by Concert Artists Guild for Quartet New Generation recorder collective. Premiere: February 8, 2007 at the Symphony Space Thalia, NYC. Numerous additional international performances by Quartet New Generation.
CD available here.
STRING QUARTET (2006)
In two movements, 16 minutes. Premiered at the Deer Valley Chamber Music Festival, Park City, Utah, August 5, 2006 by the California Quartet. NYC premiere by the Momenta Quartet, November 9, 2009 at Serial Underground at Cornelia Street Café; additional performance by Momenta at Roulette, December 2010.
TRANSPARENT PATHS (2005)
flute/picc/alto, e.gtr, cello and perc., 21 minutes; written for choreographer Estelle Woodward; premiere: October 21-22, 2005 at the Chocolate Factory, Long Island City, NY
RELIQUARY (2005)
For flute/piccolo, clarinet/bass clarinet, violin/viola, cello, percussion, and piano; 23 min. Commissioned by the Fromm Foundation for Music. Premiere by eighth blackbird: October 28, 2006 at the Chicago Museum of Contemporary Art. 
PIANO QUARTET (1998)
for piano, violin, viola, and cello, 8 min. Commissioned by the New York Youth Symphony; Premiered April 7, 1999 by members of the New York Youth Symphony at Weill Recital Hall, New York City.
Read more about "Piano Quartet"
SONATA BOMBASTICA (1996)
for violin and piano, 9 min; Premiered by the composer at the piano and violinist Gabe Bolkosky at the University of Michigan, February 10, 1997
THREE NIGHT MOODS (1995-96)
for two harps and two percussion, 18 min; Premiered April 14, 1997 at the University of Michigan
BE SILENT (1993)
for violin and piano, 7 min.